Actions
Work Header
Rating:

Category:

Fandom:

Relationship:

Characters:

Additional Tags:

Language:

English

Stats:

Published:

2015-07-13

Words:

0

Chapters:

1/1

Comments:

1

Kudos:

61

Bookmarks:

Hits:

2597
Twisted Mates (art post)
Summary:
Peter is a new Alpha and Stiles is slowly drowning in a Nemeton fueled misery. What if Peter offers a solution that Stiles takes as no one else notices. The trouble is if he is safe enough not to get caught by the Nogitsune - who is?
Notes:
Art post for the 2015 Teen Wolf Big Bang, I partnered with hellbells for her piece Twisted Mates. I made a main piece, a cover and section breaks.

Thanks to hellbells for the great pair up, it was a blast.
Work Text: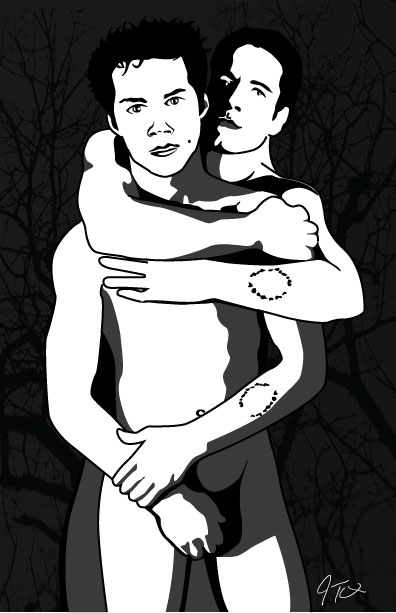 Actions
ScarsLikeVelvet, amber_lucille, jaegil, Jayisgay, Rezzekmood, MsDay, ventte, bluebell2014, g_love99, sunfirehead, Kinkylittlewolf, SpaceCatandtheKittens, goldmash, TaliVakarian, Vafrous_Vee, Lady_Shadow, KotNinja, Curiouskitten, harryloveslucius, moon01234, StarSnuffer, LuciferDiggsLiasWorksSoYouShouldToo, NeverGiveIn, Tylerbrandon19, princessva16, Melika, CBookWyrm, netty82, kaisen, iliketulips, Emma_Sea, Naemi, bloodmakesnoise, RebaK1tten, mudder3300, Marii410, AMillionAndOneOTPs, Sygin, hellbells, crazyness101, Idunn, and Maxxxx as well as 19 guests left kudos on this work! (collapse)